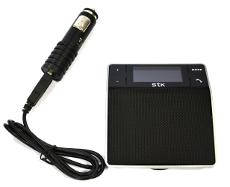 Safety has never an optional extra for us! That's why we provide all our travellers with the STK SP600 Bluetooth LCD hands-free car kit. It's a must for making phone calls in complete freedom, avoiding dangerous driving distractions. With DSP digital signal processing and echo cancellation, it offers you the best technology for your safety.
Plug & play - Fixed to the sun visor - Bluetooth transfer - Compatible with Bluetooth V2.1 + EDR - DSP digital signal processing and echo cancellation technology - Up to 6/8 hours conversation time - Up to 200 hours in standby - Recharging time: 2/3 hours
The hands-free kit is available for only 3 Euro* per day, up to a maximum of 15 Euro.
(*These amounts either include VAT or VAT is not applicable. If you rent your vehicle from one of our airport or railway station offices there will be additional ROA airport charges (16%) or ROF rail charges (12%). The hands-free kit can also be reserved directly online when you book your vehicle).
The Hands-free car kit is only available from some of our offices.